Retractable Awning Installation in Saint Louis Area
Enjoy shade, protection and comfort with our retractable awnings!
A retractable awning provides comfort where you want it, covering your entire patio or only a small area.
Add shade and style to your home with Deck & Patio Living's wide selection of deck and patio awnings and window awnings. Adding an awning is a cost-effective way to increase your home's outdoor living space and energy efficiency. Every awning we install is custom-made to meet your needs and installed by experienced, factory-trained professionals.
If you're interested in upgrading your home with a retractable awning, contact us today! Simply give us a call or click below to request your free design consultation and estimate in Saint Charles, Saint Louis, Florissant or nearby.
Before and After
Before

After

Awings provide shade and protection from harmful UV rays. This sunroom in High Ridge, Missouri used to be in direct sunlight most of the day, and the deck was in full sun.

Deck & Patio Living installed retractable, motorized awnings to provide shade on demand. Because of the limited mounting space (between the windows and soffit) on the outside wall of the sunroom, one of two retractable shade awnings was actually mounted on the roof. Now, the homeowners can enjoy both their deck and sunroom anytime of day.

Before

After

Daddy Ray Burgers first opened it's doors in O'Fallon, Missouri in Fall 2012. Having just opened, the front of the local burger joint needed something to make it stand out from other businesses nearby.

Deck & Patio Living provided a stylish and functional solution to both improve the exterior appearance as well as the customer experience. By installing a retractable awning, Daddy Ray Burgers could provide shade during the heat of the day to those waiting in line at the window for mouth-watering burgers and fries as well as reinforce the restaurant's branding with a custom fabric color.

See more: Photo Album - Restaurant Awning Installed in O'Fallon, MO
Benefits of adding retractable awnings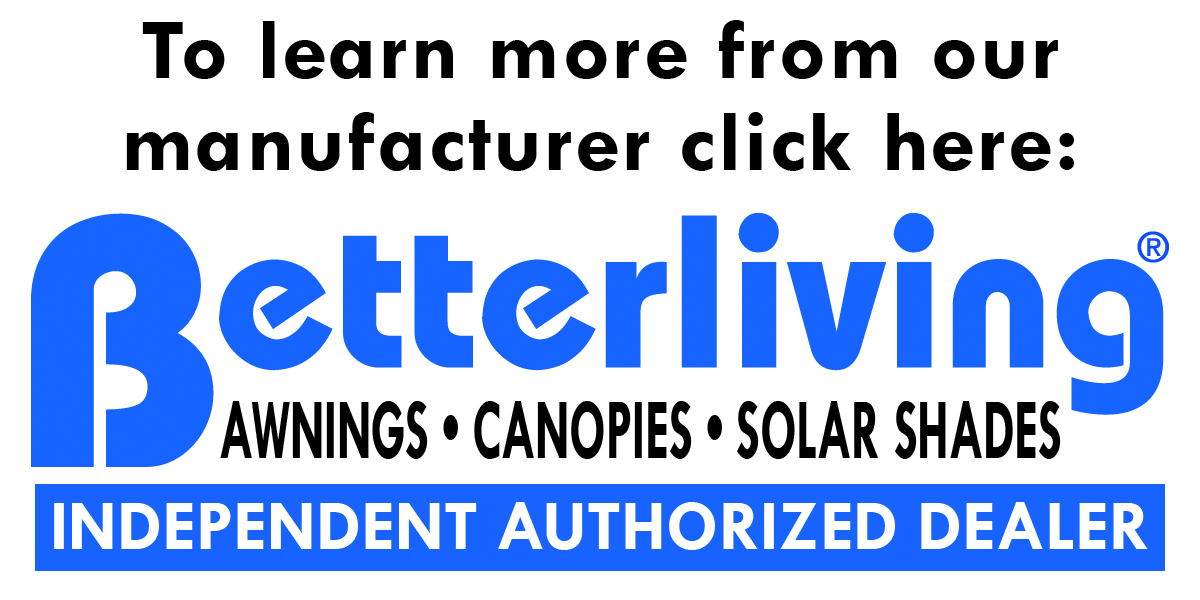 The awning products we install are designed to enhance the comfort and appearance of your home. There are many reasons to add a retractable awning to your home:
Live comfortably & reduce energy costs: Relaxing in the shade often feels 20 degrees cooler than baking in the sun—just imagine 70-degree shade on a 90-degree day! Shielding windows from direct sunlight also helps reduce the workload of your air conditioning system, ultimately saving energy and lowering your utility bills.
Block damaging UV rays: The sun's UV rays can damage and fade furniture, carpet, upholstery, drapes and flooring. A retractable awning helps keep the sun's rays from shining through your windows, protecting your furnishings.
Add instant living space with a deck or patio awning: Enjoy your deck or patio come rain or shine. Providing shade on a sunny day and sheltering you from the rain, retractable awnings enable you to extend your outdoor living space and shade your indoor space from direct sunlight.
Retractable pergola canopies are a great option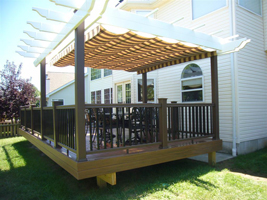 With a retractable pergola canopy, you can easily shade your outdoor living space on a hot day or open the canopy when you want a view of the sky. Pergolas provide a different look than traditional awnings and offer more of a sun and shade combination to the space.
Deck & Patio Living can install a retractable canopy on your existing pergola or build a custom pergola that's specifically designed for canopy installation. We offer a wide selection of canopy fabrics, as well as the option to add a second layer of waterproof vinyl for protection from the rain. Retractable pergola canopies can be operated manually or choose a motorized canopy for remote control operation.
Products
Betterliving Sunrooms and Awnings has been manufacturing high quality sunrooms and awnings since 1946. Their authorized dealers are held to the highest standards of workmanship and customer service.
Features of Betterliving Awnings
Manual or motorized awnings with wireless remote control
Custom designed in a wide variety of sizes and colors
Completely covered stainless steel fasteners for no maintenance
Exclusively sewn with translucent Gore® Tenara sewing thread. This thread is 100% expanded PTFE, one of the most chemically resistant substances known! It is backed up by a manufacturer's guarantee to produce seams that last a lifetime
Teflon® coated bushings for smooth, quiet operation
Quality fabrics - Unlike old fashioned canvas awnings, Betterliving Awnings feature 100% solution dyed acrylic fabric from the world's leading mills. Choose from hundreds of fabric patterns and colors to create a totally unique look for your retractable awning. All Betterliving Awning fabrics are backed with a guarantee against rot, mildew and variations in dimensional stability and color.
Lifetime limited manufacturer's warranty on components
12 year warranty on Northport Fabrics
5 year warranty on motor
Retractable Awnings
Betterliving retractable awning models come in a variety of widths and projections to meet your size requirements. Choose from a wide selection of frame options and colors and mounting options. Select either manual or motorized operation.
Window, Porch and Door Awnings
Drop arm retractable awning
Optional protective cassette housing
Drop shade is available with solid acrylic or see-through PVC polyester mesh fabric
Manual or motorized operation
Fixed Frame Awnings
Stationary frame and fabric
Variable drop, width and projection
Projections cut to measure
Choose from scalloped, straight or no valance
Basket Awnings
Retractable or fixed frame
Pull strap operation
Awnings gather up - do not roll
For more information about Betterliving Awnings, contact us today!
Get a free quote for a custom retractable awning
Here at Deck & Patio Living we offer a variety of awning products to choose from. Our experts can help you select the best solution for your home. Contact us today to schedule your complimentary design consultation and free estimate in Maryland Heights, Ballwin, O'Fallon, Saint Peters, Chesterfield, Saint Albans, Fenton or nearby.
Looking for a price? Get a no cost, no obligation free estimate.