Deck Construction & Design in Saint Louis, Saint Charles, Florissant
Expand your living space and transform your yard with a custom-built deck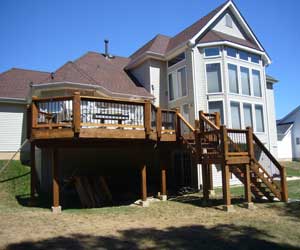 A deck can be raised off the ground or ground level, depending on the design of your home.
Whether you already have a deck design in mind or you need help coming up with a plan, Deck & Patio Living is here to help. We don't just build your deck, we custom design it to ensure you're getting the perfect deck that meets all your wants and needs.
How would you like a bigger dining area, room to entertain or a private space to relax? A new deck can expand your living area and transform your yard into your ideal outdoor living space.
To request a design consultation and free estimate for your deck construction project in Saint Louis, Saint Charles, Florissant or another surrounding, call us or click below!
---
Our decking options and services
Deck design
Deck construction
Deck replacement
Deck railing options
Deck framing
Wood decking
Vinyl decking
Composite decking
---
What type of deck material is right for you?
Vinyl Decking
For a low-maintenance alternative to wood decking and railings, consider a composite or vinyl product.
Vinyl is one of the most cost-effective and low-maintenance decking materials. Made from either hollow or solid pieces of PVC, vinyl decks can be made to look like natural wood. Vinyl decking offers many other advantages:
Low-maintenance - Vinyl decks are easy to clean and don't need to be stained or refinished
Design flexibility - Vinyl decking comes in almost any color you can think of
Durability - Vinyl decks are extremely sturdy
Composite Decking
Composite decking is a low-maintenance alternative to natural wood.
Composite decks are designed for lasting beauty, durability and easy maintenance. This type of decking can offer the look and feel of wood decking while providing long-lasting performance. Composite decking is popular among homeowners for many reasons:
Low-maintenance - Composite decks can be easily cleaned using just soap and water and never need painting, staining or sealing.
High-performance wood-alternative - Composite decks can withstand years of sun, rain and snow and won't rot, split, swell or fade. Composite decks can also resist termites and mold.
Strong warranties - Most manufacturers of composite decking offer a 25-year warranty or limited lifetime warranty on structural integrity.
Wood Deck
Wood is the most popular decking choice among homeowners for its beauty and value.
Pressure-treated wood is one of the least expensive types of decking. Wood is strong and easy to install, but also requires much more maintenance than other materials. Wood decks should be power washed annually and re-stained every two to three years to keep it looking its best. Still the most common decking choice, wood offers many advantages:
Design flexibility - There are several types of wood to choose from to match your landscaping and style of your home. Wood can also be stained and painted.
Inexpensive - Pressure-treated wood is an affordable option for decks and it's tough enough to resist abuse.
Long lifespan - Despite needing periodic staining and sealing, wood decking can last many years is properly cared for.
Design and plan your deck easily
As the local experts in deck construction, we can handle all the details of your project:
Site requirements: The design of your deck depends on your particular site conditions, including your home's floor plan, positioning to the sun and wind direction, landscaping, and utility locations.
Size and shape: What you will do on your deck will determine its size, shape and features. You might want to leave space for a table and chairs, lounge area and outdoor kitchen area.
Railings: Railings are a major focal point of your deck, so it's important to choose the right railings to match your home, landscaping and personal style. Railings should also be strong to ensure the safety of your family and friends.
Traffic flow: If you plan on using your deck for a variety of activities, it's important to consider traffic flow when designing your deck.
Comfort: Comfort and function are two of the most important elements of a deck. Adequate seating and lounging space, privacy features, a fire pit and shading are all things to consider when designing your perfect deck.
Privacy options: If you're not able to build your deck in an unexposed area of your yard, adding a privacy fence, wall, trees and shrubs are all options for creating more privacy.
Get a free quote on your deck construction project
Whether you have ideas of your own or you need help designing your deck, we'll make your wishlist a reality. As your home remodeling expert, Deck & Patio Living provides the highest quality materials and all the finished details, while working with you to make your project affordable.
If you're interested in adding a deck to your home, contact us today to request a free design consultation and estimate in Saint Louis, Maryland Heights, Ballwin, O'Fallon, Saint Peters, Chesterfield, Saint Albans, Fenton or nearby.
Looking for a price? Get a no cost, no obligation free estimate.