Hardscaping Services in Saint Louis, Saint Charles, Florissant, MO & IL
Creating custom patios, retaining walls and much more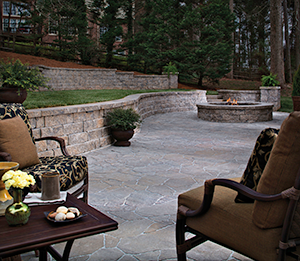 A beautiful patio and outdoor amenities are a great way to extend your living space and create an inviting backyard!
Hardscaping features, such as a beautiful stone wall, dining area or fire pit, can transform your backyard into the outdoor living space you've always dreamed of. The options are endless, but the experts at Deck & Patio Living can provide design ideas, as well as build the hardscaping features you need.
No matter how complex your hardscaping project is, our experts will listen to your ideas and ensure that all elements look natural and blend seamlessly with your landscaping and any existing structures in your backyard.
If you're interested in giving your backyard a makeover with our hardscaping services, contact us today! To request your free design consultation and estimate in Saint Charles, Saint Louis, Florissant or nearby, give us a call or click below.
Related Videos
Contemporary Outdoor Furniture in Greater...
Ratana offers an impressive array of unique, timeless designs and exceptional quality of deck and patio... Watch Video »
Garden & retaining walls
Retaining walls are an attractive and functional addition to any outdoor living space. If you have a sloped property, a retaining wall can be used to reshape your yard's natural contour to create flat areas for patios and lawns. A wall can also accent your garden, patio, outdoor kitchen or other landscaping features. We can design and build a custom garden wall or retaining wall that fits your yard and other hardscaping features.
Patios & walkways
Patios are a popular choice among homeowners wanting to expand their outdoor living space without the maintenance of a deck. A patio can also be designed with hardscaping features, such as a stone wall, fire pit, or an outdoor kitchen. We can design and install a wide range of outdoor patio styles, including paver patios, as well as restore a damaged walkway. Available in a multitude of colors, shapes and sizes, we can use pavers to blend or distinguish landscaping elements. Whether you want a short pathway or a massive backyard patio, we can help you create a patio and outdoor living space that you'll never want to leave.
Customer Reviews
By Ernestine W.
St. Louis, MO

"Very good work & went beyond their way to make a great clean up also."

By Kristi R.
St. Louis, MO

"They were friendly and did a great job on my front porch steps. They kept..."

By Charles W.
St. Louis, MO

"Very professional staff, took time out to explain the process as the walls..."

By William J.
Florissant, MO

"Due to extreme amounts of rain over an extended period, the project took..."

By William J.
Florissant, MO

"The worked above and beyond given the terrible weather."

By Linda T.
VALLEY PARK, MO

"Team was great to work with - and the end result was exactly what I was..."

By Sandra D.
St. Charles, MO

"My experience with Deck and Patio was excellent. Beginning with Aaron, the..."

"The company did everything they said they would. Ryan the crew leader kept..."

By Jim & Paula F.
Chesterfield, MO

"The workers did a good job in a timely fashion. They were receptive to..."

By Brian T.
Chesterfield, MO

"Meticulous focus on quality."

"Ryan and Sam were the guys on our project. They were so professional. Kept..."

By Mary W.
Lake St. Louis, MO

"I would highly recommend this company. They did a wonderful job re-sanding..."

"Ryan and Sam were the guys on our project they were so professioal. Kept..."
Outdoor kitchens
Whether you're grilling, smoking, or frying, we can create a space that's perfect for cooking and entertaining. With our expert masonry services, we can design your outdoor kitchen with a built-in grill, counters, storage and more. Hardscaping features, such as a paver patio, retaining wall, fireplace, or an outdoor pizza oven can also be incorporated into the design to create a space that is both unique and functional.
Outdoor fireplaces & fire pits
A custom fire pit or fireplace creates a beautiful focal point for a patio or outdoor living area. Adding a fire feature also allows you to enjoy your outdoor space for more months of the year so you can get the most out of your backyard. We can build a fire pit or outdoor fireplace that will perfectly complement your landscaping.
Products
At Belgard, we want to create your outdoor space exactly as you envision it by providing you with beautiful, long lasting products. We believe in using only the best quality products to surpass the industry standards.
Add rustic charm or modern ambiance to your outdoor living space with Belgard Pavers!
Our pavers come in a variety of styles, shapes and colors so you can capture exactly what you want your patio to look like. Not only are our pavers unique, but they are durable, long lasting, and even environmentally friendly. You can use the pavers to enhance the look of any patio, driveway or walkway and establish the outdoor atmosphere you always dreamed of.
At Belgard, we want to create your outdoor space exactly as you envision it by providing you with beautiful, long lasting products. We believe in using only the best quality products to surpass the industry standards.
Make your outdoor space comfortable and delightful with our outdoor kitchens!
Create a cozy atmosphere with our vast selection of alluring outdoor fireplaces and brick ovens. If you're looking to turn your backyard into a warm gathering place for friends and family to socialize and dine, these outdoor kitchens are right for you.
At Danver, we strive to make your outdoor kitchen projects ideas into a reality. We are dedicated to creating weather-resistant, one of a kind designs for your outdoor living area that are top notch in quality!
Danver Outdoor Kitchens makes all your outdoor kitchen dreams possible!
With stainless, weather-proof finishes that are long lasting.
Create custom designed spaces that are ideal for your living situation, regardless of how intricate.
Unique door styles.
Powder coated finishes.
Fits your needs!
Brown Jordan Outdoor Kitchens are renowned for their superior quality and long lasting outdoor kitchen products. All products are made in the United States and come in over 400 versatile stainless steel cabinet designs to help you make your outdoor living space a leisurely getaway for your friends and family.
Create the ultimate outdoor entertainment area with Brown Jordan Outdoor Kitchens!
Brown Jordan Outdoor Kitchens have everything you need to make your outdoor space entirely yours, from the durable stainless steel cabinetry to comfort providing fireplaces.
Our features include:
Luxury stainless steel cabinets
Powder coated surfaces
Weather-resistant materials
Exclusive finishes
Lifetime warranty
Coastal Source is dedicated to producing the highest quality outdoor lighting products in the industry so they will withstand even in the harshest weather conditions. Designed with coastal homes in mind, we strive to create outdoor products that are meant to survive the fierce coastal environments.
Coastal Source provide simple yet dignified outdoor lighting for all types of settings.
Features:
Solid brass designs will never corrode and rust shut.
All lights are designed to always be serviceable.
Creates ambiance of your choice for your outdoor living space.
Unique, stylish designs.
Withstands even coastal environmental living conditions.
Contact us today to discuss your hardscape ideas
Our professionals have experience designing and installing all types of hardscape features. As a full-service outdoor living contractor, Deck & Patio Living also offers retractable awnings, louvered roofs and pergola canopies to help you create the perfect outdoor space. Contact us today to request a free estimate for your patio, outdoor kitchen or other hardscape project.