Garden & Retaining Wall Construction in Greater Saint Louis
Create a stylish yet functional hardscape for your property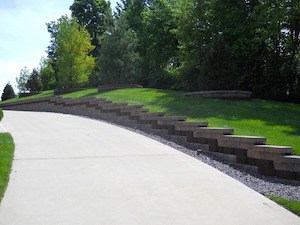 This retaining wall holds back a slope while blending in with the property's landscaping.
Making a hardscape part of your property will add value and style, and garden and retaining walls are no exception. Retaining walls are the ideal way to create separation between different features of your yard or smoothly transition between levels. Deck & Patio Living can design and build a custom wall that fits your yard and other hardscaping features.
We have experienced employees on-site, ready to help you choose the retaining wall or garden wall that works best for your property. We will take your budget and style preferences into mind as we design your ideal hardscape together.
Want to learn more about our garden and retaining wall construction services? Schedule a free estimate with Deck & Patio Living today in Saint Louis, Saint Charles, Florissant or nearby!
How garden and retaining walls benefit your property
Installing a retaining wall can accomplish a lot in your yard, and when you work with a professional like Deck & Patio Living, the benefits multiply. Our of garden and retaining walls are:
Functional. Retaining walls and garden walls are popular because of their ability to make the most of your property and save space. Hills and slopes can be kept back with a sturdy yet beautiful retaining wall, and garden walls can be used to divide vegetable patches from flower gardens, or for any other reason you see fit. Other ideas include building a vertical garden - the choice is up to you!
Customizable. Deck & Patio Living works with a variety of materials, colors, and styles so you can design the perfect retaining wall for your needs. Working with both natural and man-made products such as real stone and concrete, we can help you find an attractive solution to your hardscaping needs - all within your budget.
Durable. A well constructed wall can last the ages with almost no effort on your part. Stone and concrete are hardy materials made to withstand even the toughest of weather conditions. Once you've put your wall in place, you likely won't have to spend money on it again.
Valuable. Adding any hardscaping feature is sure to boost your property value. Constructing a retaining or garden wall is an easy way to increase your home's resale value, offering a return on your original investment.
Get started on a retaining or garden wall today
If you're looking for hardscaping that will awe your friends, family, and neighbors, you've come to the right place. Deck & Patio Living has years of practice constructing reliable retaining walls for customers in Greater Saint Louis, and we're more than happy to show you how these services can transform your property for the better. To see what Deck & Patio Living's hardscaping experts have in store for you, schedule a free estimate with us today!
Looking for a price? Get a no cost, no obligation free estimate.