Quality Patios, Walkways & Steps in Missouri and Illinois
We construct valuable hardscapes to improve your backyard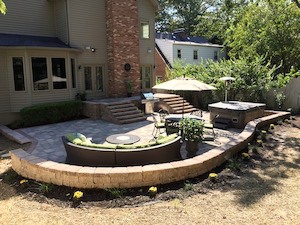 A backyard paver patio complete with attractive steps and a seating wall.
Some homeowners spend a lot of time fixing up the interiors of their homes without taking their yards into account. Visitors need a reliable way to get from the front or back of your property to the inside of your home, which is why well-designed walkways and steps are so crucial. Additionally, if you're looking to entertain guests outside, you may also be in need of a patio.
If you need help conceptualizing and constructing any of these hardscaping features, you've come to the right place. Deck & Patio Living offers experienced hardscaping services to make your property come to life. By offering a wide selection of material and style options, we're sure to find a patio or walkway solution that matches your style requirements and is in-budget.
Call us at 1-844-857-7749 or click below to schedule your free estimate for hardscaping today! Deck & Patio Living offers our services to customers in Saint Louis, Saint Charles, Florissant and areas nearby.
This walkway leads guests to the front door in a fun and functional way!
Traverse your property with hardscape walkways
Stone or concrete steps and walkways serve dual purposes - they can customize the appearance and aesthetic of your home, but they also provide crucial mobility. Every hardscape needs a walkway connecting it to the house to offer safe passage, and to direct guests to use your space the way you've envisioned it.
Additionally, a new front entryway complete with stone steps or a path from your driveway can make a great first impression as well. Deck & Patio Living can construct all of these features and more when you come to us with your hardscaping ideas!
Our patios can make your yard come to life
Benefits of hardscapes
Beautiful
Long-lasting
Valuable
Functional
Do you wish that you could get your family and friends to spend more time outside? Patios are a popular choice that make it easy to enjoy the outdoors. You'll have a go-to entertaining space when the weather is nice, and you won't have to worry as much about cleaning up spills or other messes. Adding a patio is also a great way to improve your home value. When you go to sell, potential buyers will be impressed with the look and feel of your patio - installed by the experts at Deck & Patio Living!
We offer a wide variety of material and color choices to help you achieve the exact look you're seeking. Making use of both local and national stones, concrete pavers, and other products, you won't have to compromise on style or on your price range.
Talk to a professional for your patio & walkway needs
In order to receive a finished patio, walkway, or set of stairs that's built to last, you need to seek out professional guidance - someone who takes responsibility for their work and is dedicated to customer service. Deck & Patio Living values all of these traits and more, and with many years of experience, we know we have the skills and tools needed for a job well done.
Ready to get started on your patio, walkway, or other hardscaping project? Schedule a free estimate with Deck & Patio Living today! We proudly serve customers in Saint Charles, Saint Louis, Florissant and throughout the surrounding cities and towns.
Looking for a price? Get a no cost, no obligation free estimate.