Under Deck Ceiling Installation in Saint Louis, Saint Charles, Florissant, MO & IL & Nearby
Create usable space under your deck with our DRY-TOP system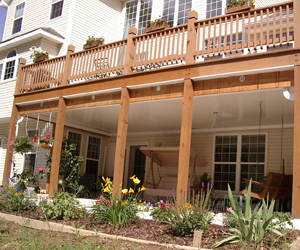 Installing an under deck ceiling system allows you to keep this area dry to create a unique, functional space.
Gain additional, dry patio space below your deck, and make the most of your outdoor living space with a professionally-installed under deck ceiling from Deck & Patio Living. Whether you want to grill out on a rainy day or enjoy a private getaway in your own backyard, our DRY-TOP under-deck system is the perfect solution to expand the living space outside your home. This system gives you a variety of uses for the space under your deck, including patio space, an outdoor kitchen, screened enclosure, storage area, and much more.
Request your free estimate in Saint Louis, Saint Charles, Florissant or nearby to see how our under deck system can transform your outdoor living space - call or click below to contact us!
Customer Reviews
By Joyce B.
East Alton, IL

"Everyone was so nice and professional"

By Keith G.
St. Louis, MO

"Deck & Patio Living did a great job for me on a decking project. They..."

"My experience with Deck and Patio was excellent. Beginning with the sales..."

By O. L. P.
St. Louis, MO

"Greg and his team could not have been more professional. From the first..."

"Very professional, great work and reasonably priced!"

By Robert D.
St Charles, MO

"The quality of stated materials and the look. Awesome sales and..."

By Jennifer B.
O'Fallon, MO

"Deck & Patio Living provided us with the ideal experience for our..."

By Outdoor Lighting Perspectives
Lake Saint Louis, MO

"Their team could not have been more professional. From the first meeting..."
What is the DRY-TOP under deck ceiling system?
The DRY-TOP Under Deck Ceiling uses interlocking aluminum panels (manufactured by us in St. Louis) as the primary water collection device, draining into a 6-inch aluminum gutter at the perimeter and emptying into a downspout—directing water away from the patio area. The seamless, sculpted K-style 6-inch gutter appears as crown molding, providing a finished, upscale appearance. Six-inch gutters are larger than typical 5-inch gutters, which makes them less likely to clog from accumulated debris.
Features of the DRY-TOP system
Greater air circulation: Furring strip systems have limited air gap below the joists and a reduced capacity to drain debris. DRY-TOP ceiling panels are not hung from furring strips that attach to the joists, so there is a larger air gap for greater air circulation. Visit our St. Louis showroom for an actual demonstration of the difference.
Ventilation: Optional 4-inch vents are available for additional ventilation.
V-groove aluminum ceiling: Never-rust aluminum panels resemble a tongue-in-groove wood ceiling.
Simulated crown molding: Six-inch gutters surround the ceiling to collect water from the panels. The gutter shape simulates and appears as crown molding around the ceiling while draining water to a downspout.
Strength for ice and wind loads: Ceiling panels are supported in the center by safety straps to handle any ice or wind loads.
Easily accommodates screen enclosure: A screen enclosure can easily be attached to the framework provided by the deck drain ceiling.
Variety of color choices: Choose from 5 colors to design your outdoor space: White, Eggshell, Creme, Cocoa Brown or Bronze.
Cocoa Brown
Cream
Dark Bronze
Eggshell
White 30°
Ask about our DRY-TOP Lite system, which uses one gutter instead of the full-perimeter gutter system used by the DRY-TOP. Choose from White, Crème, Eggshell, Cocoa Brown or Dark Bronze.
Enjoy peace of mind with our lifetime warranty
Deck & Patio Living provides a Limited Lifetime Warranty addressing leaks and workmanship for your protection. The baked-on aluminum ceiling finish is warranted for 5 years against chalking, fading or peeling.
Happy Customer Testimonials
Get a free quote to install a ceiling system under your deck
If you're interested in transforming the unused space under your deck with an under deck ceiling system, contact us today! We will gladly provide you with a complimentary design consultation. We offer free estimates for all of our deck and patio services in Ballwin, Maryland Heights, Saint Peters, O'Fallon, Saint Albans, Fenton, Chesterfield and nearby.